TRANSFORMATION FROM SEMANTIC DATA MODEL TO RDF
Abstract
There have been several efforts to use relational model and database to store and manipulate Resource Description Framework (RDF). They have one general disadvantage, i.e. one is forced to map the model of semantics of RDF into relational model, which will end up in constraints and additional properties, such as, validating each assertion against the RDF schema which also stored as a triplets table. In this paper, we introduce Semantic Data Model as a proposed data model language to store and manipulate Resource Description Framework. This study also tries to prescribe the procedure on transforming a semantic data model into a RDF data model.
Keyworsd: Semantic Data Model, Resource Description Framework.
DOI:
http://dx.doi.org/10.12962/j24068535.v3i2.a263
Refbacks
There are currently no refbacks.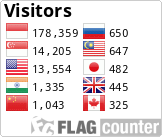 JUTI (Jurnal Ilmiah Teknologi Informasi)
by Department of Informatics, ITS is licensed under a
Creative Commons Attribution-ShareAlike 4.0 International License
. JUTI is accordance with CC BY-SA.