PERANCANGAN DATABASE TELECENTER - JATIM BERBASIS WEB
Abstract
Sejalan dengan visi BPDE Jatim untuk menjadi instansi teknis terdepan dalam mengelola data dan informasi yang berbasis pemanfaatan teknologi informasi., maka perlu kiranya bagi instansi ini untuk membentuk Pusat Data Propinsi yang terpadu guna mendukung penyelenggarakan pemerintahan, pembangunan dan pelayanan yang baik kepada masyarakat.
Perancangan ini dibuat dengan menggunakan database MySql, serta PHP yang dapat mengerjakan semua yang dapat dikerjakan oleh program CGI, seperti mendapatkan data dari form, menghasilkan isi halaman web yang dinamik dan menerima cookies.
Dengan aplikasi ini diharapkan natinya BPDE dapat menyediakan dan menyebarluasan informasi untuk Pemerintah dan masyarakat dengan menggunakan sistem informasi dan telematika dalam rangka terciptanya budaya informasi.
Kata Kunci: Database, MySQL , BPDE (Badan Pengolahan Data Elektronik), PHP
DOI:
http://dx.doi.org/10.12962/j24068535.v5i1.a206
Refbacks
There are currently no refbacks.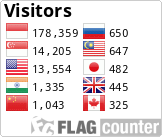 JUTI (Jurnal Ilmiah Teknologi Informasi)
by Department of Informatics, ITS is licensed under a
Creative Commons Attribution-ShareAlike 4.0 International License
. JUTI is accordance with CC BY-SA.