KLASIFIKASI KUALITAS PERANGKAT LUNAK BERDASARKAN ISO/IEC 25010 MENGGUNAKAN AHP DAN FUZZY MAMDANI UNTUK SITUS WEB E-COMMERCE
Abstract
Evaluasi kualitas fungsional dan antar muka situs web e-commerce dari perspektif pengguna sangat penting untuk membangun atau mengembangkan situs web e-commerce yang memenuhi standar kualitas. Namun, untuk menilai kualitas fungsional dan antar muka dari situs web e-commerce sulit untuk didefinisikan sehingga membutuhkan model evaluasi perangkat lunak. Pentingnya evaluasi kualitas situs web e-commerce berdasarkan karakteristik perangkat lunak utnuk dapat dikembangkan dan menyesuaikan standar kualitas perangkat lunak.
Penelitian ini mengusulkan sebuah model evaluasi kualitas situs web e-commerce berdasarkan karakteristik pada functional suitability, performance efficiency, reliability dan usability pada ISO/IEC 25010. Pada penelitian ini menggunakan metode Fuzzy Mamdani untuk menilai kualitas dari situs web e-commerce berdasarkan karakteristik dan pembobotan kepentingan karakteristik menggunakan metode Analytical Hierarchy Process. Model yang diusulkan diterapkan ke beberapa situs web e-commerce di Indonesia sebagai studi kasus untuk mengevaluasi tingkat kualitas perangkat lunak. Hasil yang didapat dari model evaluasi dapat membantu pengembang untuk merancang dan menggembangkan situs web e-commerce yang kualitas dengan tingkat accurasy 0,684%.
References
D. Irmawati. (November 2011). Pemanfaatan E-Commerce Dalam Dunia Bisnis. J. Ilm. Orasi Bisnis. Volume 4. no. IV. Halaman 113–121.
Tersedia : http://www.academia.edu/4911623/PEMANFAATAN_E-COMMERCE_DALAM_DUNIA_BISNIS
A. Stefani and M. Xenos.(25 Januari 2011). Weight-modeling of B2C system quality. Comput. Stand. Interfaces. Volume 33. Halaman 411–421.
Tersedia : https://doi.org/10.1016/j.csi.2011.01.002
D. Lesmideyarti, S. Rochimah, dan U. L. Yuhana. (Desember 2017). Penyusunan dan Pengujian Metrik Operabilitas untuk Sistem Informasi Akademik berdasarkan ISO 25010. Jurnal Inspirat. Volume 7. Halaman 92–100. Tersedia : https://jurnal.akba.ac.id/index.php/inspiration/article/view/2442
A. Stefani dan M. Xenos. (26 Oktober 2007). E-commerce system quality assessment using a model based on ISO 9126 and belief networks. Software Quality Journal. Volume 16. no. 1. Halaman 107–129. Tersedia : https://doi.org/10.1007/s11219-007-9032-5
A. B. Albuquerque dan A. D. Belchior. (February,2002). E-commerce Website quality evaluation. Conference Proceedings of the EUROMICRO Conf. Proc. EUROMICRO. Halaman 294–300. DOI: 10.1109/EURMIC.2002.1046178
X. Yu, S. Guo, J. Guo, and X. Huang. (April 2011). Rank B2C e-commerce websites in e-alliance based on AHP and fuzzy TOPSIS. Expert Systems with Applications journal. Volume 38(4). Halaman 3550–3557. Tersedia : https://doi.org/10.1016/j.eswa.2010.08.143
A. S. Puspaningrum, S. Rochimah dan R. J. Akbar. (Oktober 2017) . Functional Suitability Measurement using Goal-Oriented Approach based on ISO / IEC 25010 for Academics Information System. Journal of Information Systems Engineering and Business Intelligence. Volume 3(2). Halaman 0 – 6. Tersedia : http://dx.doi.org/10.20473/jisebi.3.2.68-74
S. Wagner. (2013). Software product quality control. Tersedia : https://www.springer.com/gp/book/9783642385704
Saaty, T. L. (1994). Fundamentals of Decision Making and Priority Theory with the Analitycal Hierarchy Process. The Analitycal Hierarchy Process Series. Volume 4(4).
Saaty, T. L. (2008). Decision making with the analytic hierarchy process. International Journal of Services Sciences. Volume 1(1). Halaman 83-98. Tersedia : https://www.inderscienceonline.com/doi/abs/10.1504/IJSSci.2008.01759.
Budiharto, W. (20 September 2013). Robotika Modern Teori Dan Implementasi (Edisi Revisi ).
DOI:
http://dx.doi.org/10.12962/j24068535.v17i1.a820
Refbacks
There are currently no refbacks.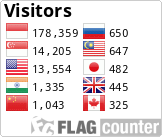 JUTI (Jurnal Ilmiah Teknologi Informasi)
by Department of Informatics, ITS is licensed under a
Creative Commons Attribution-ShareAlike 4.0 International License
. JUTI is accordance with CC BY-SA.