SURVEI PENANGANAN BROADCAST STORM PROBLEM PADA PROTOKOL ROUTING AODV DI MANET
Abstract
Komunikasi multi-hop pada lingkungan MANET dapat melibatkan broadcast paket dalam proses route discovery. Protokol routing pada MANET akan melakukan broadcast paket RREQ dan menjalarkannya ke node tujuan secepat dan seefisien mungkin, dimana paket RREQ dari rute yang optimal adalah paket RREQ yang terlebih dahulu sampai ke tujuan. Aktifitas broadcast yang tidak terkontrol dapat menyebabkan suatu kondisi yang disebut broadcast storm problem. Broadcast storm problem dapat berdampak pada terganggunya kinerja dari protokol routing akibat adanya packet redundancy, contention, dan collision. Broadcast storm problem dapat ditangani dengan membatasi jumlah node yang dapat melakukan broadcast. Tujuan utama dari pembuatan makalah ini adalah merangkum beberapa mekanisme terbaru yang telah diakukan oleh para peneliti untuk menangani broadcast storm problem. Kami juga menyajikan perbandingan dari mekanisme tersebut berdasarkan karakteristik dari mekanisme ditinjau dari kesesuaian dengan beberapa skema penanganan broadcast storm problem yang diajukan oleh peneliti sebelumnya, kebutuhan informasi tertentu antar node, lingkungan uji coba dan apakah mekanisme ini dapat diterapkan pada protokol routing lainnya.
DOI:
http://dx.doi.org/10.12962/j24068535.v13i2.a486
Refbacks
There are currently no refbacks.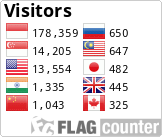 JUTI (Jurnal Ilmiah Teknologi Informasi)
by Department of Informatics, ITS is licensed under a
Creative Commons Attribution-ShareAlike 4.0 International License
. JUTI is accordance with CC BY-SA.