ANALISIS KEAMANAN ALGORITMA ENKRIPSI CITRA DIGITAL MENGGUNAKAN KOMBINASI DUA CHAOS MAP DAN PENERAPAN TEKNIK SELEKTIF
Abstract
Di dalam makalah ini dipresentasikan analisis keamanan dari sebuah usulan algoritma enkripsi citra yang berbasis chaos dan penggunaan teknik enkripsi selektif untuk mengurangi volume komputasi. Algoritma enkripsi menggunakan Arnold Cat Map untuk mengacak citra, selanjutnya teknik enkripsi selektif diterapkan dengan memilih hanya empat bit MSB dari setiap pixel untuk di-XOR-kan dengan keystream yang dibangkitkan dari Logistic Map. Analisis keamanan meliputi analisis ruang kunci, analisis histogram, analisis korelasi, analisis entropi, dan analisis sensitivitas. Secara keseluruhan dapat dinyatakan bahwa analisis keamanan terhadap algoritma enkripsi citra yang ditinjau menunjukkan bahwa algoritma tersebut aman dari berbagai serangan yang bertujuan untuk menemukan kunci atau pixel-pixel di dalam plain-image..
DOI:
http://dx.doi.org/10.12962/j24068535.v10i2.a310
Refbacks
There are currently no refbacks.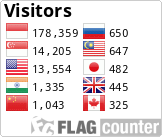 JUTI (Jurnal Ilmiah Teknologi Informasi)
by Department of Informatics, ITS is licensed under a
Creative Commons Attribution-ShareAlike 4.0 International License
. JUTI is accordance with CC BY-SA.