SOFTWARE OPEN SOURCE, SOFTWARE GRATIS?
Abstract
Berlakunya Undang – undang Hak Atas Kekayaan Intelektual (HAKI), memunculkan suatu alternatif baru untuk menggunakan software open source. Penggunaan software open source menyebar seiring dengan isu global pada Information Communication Technology (ICT) saat ini. Beberapa organisasi dan perusahaan mulai menjadikan software open source sebagai pertimbangan. Banyak konsep mengenai software open source ini. Mulai dari software yang gratis sampai software tidak berlisensi. Tidak sepenuhnya isu software open source benar, untuk itu perlu dikenalkan konsep software open source mulai dari sejarah, lisensi dan bagaimana cara memilih lisensi, serta pertimbangan dalam memilih software open source yang ada.
Kata kunci :Lisensi, Open Source, HAKI
DOI:
http://dx.doi.org/10.12962/j24068535.v5i1.a201
Refbacks
There are currently no refbacks.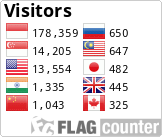 JUTI (Jurnal Ilmiah Teknologi Informasi)
by Department of Informatics, ITS is licensed under a
Creative Commons Attribution-ShareAlike 4.0 International License
. JUTI is accordance with CC BY-SA.