ADAPTIVE WEB SITE DENGAN METODE FUZZY CLUSTERING
Abstract
Ledakan pertumbuhan dan perkembangan informasi dalam dunia maya menjadikan personalisasian informasi menjadi isu yang penting. Personalisasi informasi yang akan diberikan oleh situs web akan sangat mempengaruhi pola dan perilaku pengguna dalam pencarian informasi, terutama pada perdagangan elektronis (e-commerce).
Salah satu pendekatan yang memungkinkan dalam personalisasian web adalah mencari profil pengguna (user profile) dari data historis yang sangat besar di file web log. Pengklasifikasian data tanpa pengawasan (unsupervised clasification) atau metode metode clustering cukup baik untuk menganalisa data log akses pengguna yang semi terstruktur. Pada metode ini, didefinisikan "user session" dan juga ukuran perbedaan (dissimilarity) diantara dua web session yang menggambarkan pengorganisasian sebuah web site. Untuk mendapatkan sebuah profil akses pengguna, dilakukan pembagian user session berdasarkan pasangan ketidaksamaan menggunakan algoritma Fuzzy Clustering.
Kata kunci : Adaptive Website, Fuzzy Clustering, personalisasi informasi.
DOI:
http://dx.doi.org/10.12962/j24068535.v3i1.a129
Refbacks
There are currently no refbacks.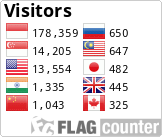 JUTI (Jurnal Ilmiah Teknologi Informasi)
by Department of Informatics, ITS is licensed under a
Creative Commons Attribution-ShareAlike 4.0 International License
. JUTI is accordance with CC BY-SA.