Focus and Scope
JUTI is focusing on publishing original research, communication, and notes as a result of original and high quality research. The journal also invites well known researchers to write a review paper.
JUTI accepts high quality papers in the field of engineering, science, and technology. 
The scope of JUTI encompasses but not limited to the following:
Information Technology
Computer Science
Information System
Computer Network
Software Engineering
Computer Vision
Section Policies
Articles
| | | |
| --- | --- | --- |
| Open Submissions | Indexed | Peer Reviewed |
Uncategorized
| | | |
| --- | --- | --- |
| Open Submissions | Indexed | Peer Reviewed |
Peer Review Process
All papers of the journal are peer reviewed by two independent reviewers. Acceptance is granted when both reviewers recommendations are positive. Journal issues will be made available online for download (Section: Archives).
Initial review: The Editor-in-Chief evaluates each paper to determine if its topic and content is suitable for consideration by the JUTI. Papers that do not meet minimum criteria are returned to the authors within two weeks of receipt. Then the authors could decide to either correct the problems or to submit the paper to a more appropriate venue, avoiding delays from a lengthy review process that would nonetheless lead to rejection.
Peer review: Papers that pass the initial review are assigned to an Associate Editor, who selects several referees based on their expertise in that particular field. Each paper is reviewed by at least two referees under a single-blind peer review process where the referees are kept anonymous. Referees are asked to evaluate the paper based on the basis of their originality, novelty, clarity, completeness, significance, soundness of methodology and research contribution and relevance to design practices. Based on the Review Remarks, the papers may be placed in any one of the categories like Reject, Reconsider after Revision, or Accept as it is. To facilitate timely publication, referees are asked to complete their reviews within 5 weeks. After collecting the referees' reports, the Associate Editor makes a recommendation on the acceptability of the paper to the Editor-in-Chief.
Recommendation: Based on the referees' comments and the Associate Editor's recommendation, the Editor-in-Chief makes a final decision on the acceptability of the paper and communicates to the authors the decision, along with referees' reports. The final decision can be "Accept Submission", "Resubmit for Review", "Reject", or "Decline Submission." A revised paper should be re-submitted within 2 weeks of the decision. It will usually be reviewed by Associate Editor for evaluation.
Publication Frequency
The journal is published 1 volume per year. It is a biannual on January and July by the Department of Informatics, Institut Teknologi Sepuluh Nopember (ITS). Each issue contain 10 articles in average.

Open Access Policy
This journal provides immediate open access to its content on the principle that making research freely available to the public supports a greater global exchange of knowledge. JUTI allows the author(s) to hold their copyright and retain publishing rights without restriction.
Archiving
This journal utilizes the LOCKSS system to create a distributed archiving system among participating libraries and permits those libraries to create permanent archives of the journal for purposes of preservation and restoration. More...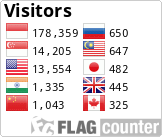 JUTI (Jurnal Ilmiah Teknologi Informasi)
by Department of Informatics, ITS is licensed under a
Creative Commons Attribution-ShareAlike 4.0 International License
. JUTI is accordance with CC BY-SA.