Mailing Address
Kantor Redaksi JUTI
Gedung Teknik Informatika Lantai 2 Ruang IF-201,
Jl. Teknik Kimia, Kampus ITS Sukolilo, Surabaya, 60111


Principal Contact
Tohari Ahmad
Dr.
Informatics Department

Kantor Redaksi JUTI
Gedung Teknik Informatika Lantai 2 Ruang IF-201,
Jl. Teknik Kimia, Kampus ITS Sukolilo, Surabaya, 60111
Phone: +6231 – 5939214
Fax: +6231 – 5913804
Email:
tohari@if.its.ac.id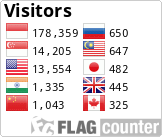 JUTI (Jurnal Ilmiah Teknologi Informasi)
by Department of Informatics, ITS is licensed under a
Creative Commons Attribution-ShareAlike 4.0 International License
. JUTI is accordance with CC BY-SA.