EKSPLORASI DAN IMPLEMENTASI UNIFIED APPROACH DALAM PERANCANGAN SISTEM INFORMASI : STUDI KASUS SISTEM RESERVASI HOTEL
Abstract
Perancangan perangkat lunak merupakan tahapan yang penting di dalam rekayasa perangkat lunak. Pemilihan perangkat perancangan yang dapat membantu memodelkan perangkat lunak menentukan kemudahan spesifikasi, implementasi, visualisasi, pengujian, dan dokumentasi perangkat lunak.
UML, Unified Modelling Language sebagai Bahasa Pemodelan Terpadu mempunyai perangkat untuk memodelkan perangkat lunak memvisualisasikan use case, statis, dan perilaku perangkat lunak di dalam sistem. Penggunaan UML di dalam perancangan sistem informasi berbeda dengan penggunaan UML di dalam perangkat Lunak Waktu Nyata (Realtime).
Pendekatan Unified adalah salah satu panduan yang digunakan untuk perancangan perangkat lunak dengan menggunakan UML.
Kata kunci: UML, pendekatan unified, reservasi hotel.
DOI:
http://dx.doi.org/10.12962/j24068535.v1i1.a96
Refbacks
There are currently no refbacks.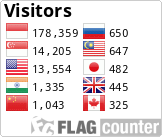 JUTI (Jurnal Ilmiah Teknologi Informasi)
by Department of Informatics, ITS is licensed under a
Creative Commons Attribution-ShareAlike 4.0 International License
. JUTI is accordance with CC BY-SA.